Wolfe Lab 2015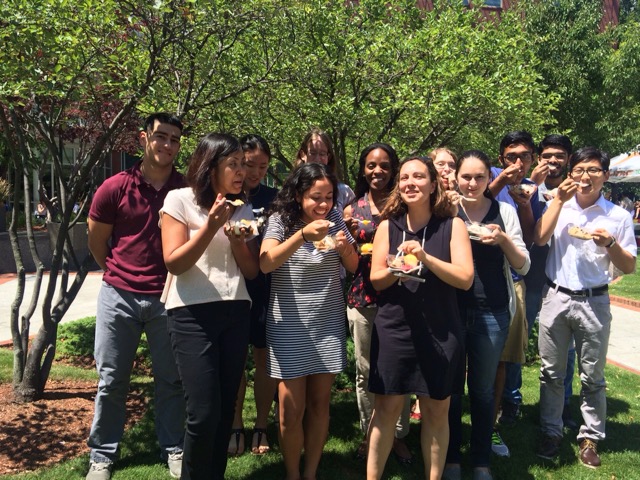 Dante, Farah, Olivia, Bea, Jungyeon, Krista, Kala, Aire, Avi, Sahaj, Arnab and Lindong!
Principal Investigator
Jeremy Wolfe

Jeremy Wolfe is the head of the lab. He is Professor of Ophthalmology and Radiology at Harvard Medical School. In addition, he is a Senior Lecturer in the Department of Brain and Cognitive Sciences at MIT and an Adjunct Associate Professor in Cognitive and Neural Systems at Boston University. He received his AB in 1977 from Princeton and his Ph.D. in Psychology from MIT in 1981. He is married to Julie Sandell (Assoc. Provost for Faculty Affairs, Boston U) and has three sons (Ben-29; postdoc at the MIT AgeLab, to see more of his work click here), Philip-27, and Simon -19. Click here to read his curriculum vitae.
Research Fellows
Visiting Professors
Nurit Gronau

Nurit completed her PhD at the Hebrew University of Jerusalem, investigating the factors that affect visual attentional selection, specifically examining the nature of distractor interference in focused-attention tasks. In her research, she asked whether personally significant stimuli (such as one's own name) affect one's responses to an attended stimulus in an involuntary manner. Using both behavioral and psychophysiological measures, she showed that in contrast to common belief, highly meaningful stimuli do not capture attention, unless they are relevant to task demands. Nurit than proceeded to her post-doctoral studies at the NMR center of Harvard Medical School, exploring the cortical correlates of object-to-object contextual binding processes, using behavioral and functional brain imaging techniques. In recent years, as a faculty PI at the Open University of Israel, she has been working on various questions associated with the necessity of attention to visual recognition and to visual object integration processes. In addition, she has been working on several projects associated with visual memory, visual object representation, and semantic/contextual influences on long-term memory. Nurit is currently spending a sabbatical year as a visiting professor at the Wolfe lab.

Longsheng Wei

Longsheng received his Ph.D. at the Huazhong University of Science and Technology, China, where he studied visual attention, machine learning, and image processing. He is currently an assistant professor in the School of Automation, China University of Geosciences, China. He applies visual attention to image processing, such as saliency object detection, image quality assessment, image compression and coding, video surveillance. As a visiting scholar in Visual Attention Lab, Longsheng investigates the psychological principle of attention mechanism, and studies how humans control their behavior in response to visual and auditory stimuli.
Research Assistants
Makaela Nartker

Makaela received her B.A. in Psychology from Ohio State University, where she worked with Dr. James Todd investigating the perception of 3D shape from shading. She also worked with Dr. Julie Golomb studying the interactions between visual working memory and feature encoding. Among other things, she is interested in visual attention, object recognition, and cognitive disorders. .

Hayden Schill

Hayden graduated from Rhodes College with a B.S in Neuroscience. She previously worked in Dr. Jason Haberman's vision lab exploring the capacity limitations of ensemble perception. Her research interests include visual and temporal perception, ensemble architecture, and guided attention.
Graduate Students