Lab Members
Wolfe Lab 2014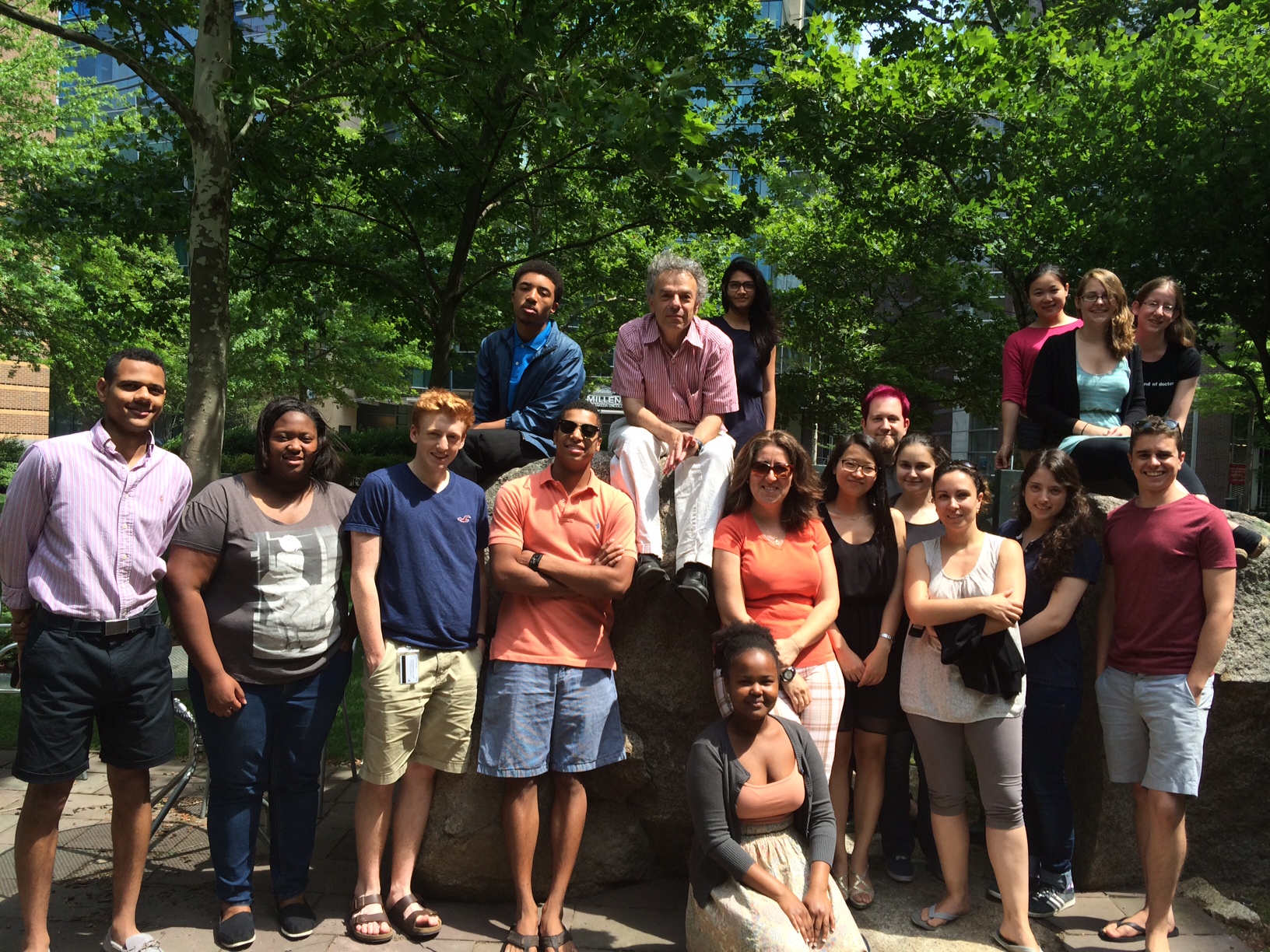 Andrew, Preeti, Matt, Lily, Emilie, Krista,
Bassil, Mikal, Mike, Trevor, Duygu Jinx, Avi, Bea, Marwa, Matt,
Pascale and Jeremy!
Principal Investigators

| | |
| --- | --- |
| | Jeremy Wolfe is the head of the lab. He is Professor of Ophthalmology and Radiology at Harvard Medical School. In addition, he is a Senior Lecturer in the Department of Brain and Cognitive Sciences at MIT and an Adjunct Associate Professor in Cognitive and Neural Systems at Boston University. He received his AB in 1977 from Princeton and his Ph.D. in Psychology from MIT in 1981. He is married to Julie Sandell (Assoc. Provost for Faculty Affairs, Boston U) and has three sons (Ben-26; graduate student at Berkeley with David Whitney), Philip-23, and Simon -16. Click here to read his curriculum vitae. |
Research Fellows
| | |
| --- | --- |
| | Preeti received her Ph.D. in Behavioral Neurobiology from the University of Wuerzburg, Germany, where she worked with Martin Heisenberg on visual attention in fruit flies (Drosophila melanogaster) using a flight simulator. As not much literature was available on attention mechanisms in flies, she mainly read work on humans and other primates which intrigued her into her own species. She had a short postdoctoral visit at the Psychology Department in Wuerzburg with Paul Pauli and Matthias Wieser studying how emotional faces withdraw processing resources depending on their location in the peripheral visual field using steady-state visual evoked potentials (SSVEPs). As a postdoctoral fellow in the Visual Attention Lab, she is studying the role of incongruent information in non-selective processing of real-world scenes. |
| | |
| --- | --- |
| | Matt received his Ph.D. at the University of California, Berkeley, where he studied cognitive control, task switching, attention, and video game players. From there, he got his first taste of visual search, working as a postdoc with Steve Mitroff at Duke University, studying miss errors in multiple-target visual search as well as trying to understand the impact of media multitasking behavior in attentional control. After that, Matt delved into lower-level perceptual-learning processes and how they are affected by sleep in a postdoc with Takeo Watanabe and Yuka Sasaki at Brown University. Now, as a postdoc in the Visual Attention Lab, Matt is once again happily enmeshed in multiple-target search, especially ecologically inspired foraging models. Check out his website for publications and other information. |
| | |
| --- | --- |
| | Krista received her Ph.D. from MIT, where she worked with Ruth Rosenholtz on visual crowding and scene perception. Her thesis work focused on how three-dimensional spaces are represented through two-dimensional views, and the role of central and peripheral visual information in building a mental representation of a 3D environment in order to reorient in that space. As a postdoctoral fellow in the Visual Attention Lab, she is investigating foraging and navigation behavior in 3D virtual environments. Click here for her CV, publications, and code. |
Research Assistant
| | |
| --- | --- |
| | Avi graduated from Brandeis University with a degree in Psychology. She completed her senior honors thesis on the influence of musicianship on audiovisual pattern recognition while working in Professor Robert Sekuler's lab. Her interests include visual attention and memory. |
| | Emilie received her B.S. in Psychology from Boston College, where she worked in the Vision and Cognition Lab under the guidance of Sean MacEvoy. She wrote her senior thesis on the role of objects size on the perception of the dimension of real-world scenes. Emilie joined the lab in the summer of 2013. |
Graduate Students
Lab Alumni
Got corrections or additional info for us? Let us know!
Former Principal Investigator

Todd Horowitz

Former Post-Doctoral Research Fellows
Matthew B Thompson
June '14 - December '14

Maria Nordfang
September '13- August '14

Melissa Le-Hoa Vo
'10-'14

Click here to see his info

Click here to see his info

Yair Pinto
'08-'10

Click here to see his info

Click here tosee her info

Nayantara Santhi
'00-'02

Riccardo Pedersini

'08-'10

Click here to see his info

Former Graduate Students

Jinxia Zhang

2012 & 2014

Computer Science and Engineering

Nanjing University of Science and Technology

Kilian Semmelmann

Aug '12-October '12 & Spring '13

MS in Neuro-Cognitive Psychology from the University of Munich

Dejan Draschkow

Summer '12

MS in Neuro-Cognitive Psychology from the University of Munich

Lisa Pfannmüller

Spring '12-Summer '12

MS in Neuro-Cognitive Psychology from the University of Munich

'11-'12

University of Washington

Kazuya Ishibashi
Spring 10' - Summer 10'

Kobe University
Kobe, Japan

Maria Nordfang
Spring 10' - Summer 10'

University of Copenhagen
Copenhagen, Denmark

Patricia Graf
'08-'09

 Ludwig-Maximilians-University
Munich, Germany

Greg Gancarz
'93-'96, BU/CNS

Corinna Lathan
'89-'90
Former Visiting Post-Docs

Michael Zehetleitner
2009, Ludwig-Maximilians-University Munich

Yair Pinto
Spring '07
Former Research Assistants

Sage Boettcher
'12-'14

Corbin Cunningham
'10-'12

Ashley Sherman
'10-'12

Lori Myers
'09-'10

Erica Kreindel
'09- '11

Yoana Kuzmova
'07- '10

Michael Cohen
'07-'09

Michael Van Wert
'05-'08

Steve Flusberg
'04-'06

Skyler
Place'04-'06

Kristin Michod
'03-'05

Naomi Kenner
'02-'05

Megan Hyle
'00-'02

Serena Butcher
'99-'01

George Alvarez
'98-'00

Asia Wong
'98-'99

Nikki Klempen
'96-'98

Kari Dahlen
'96-'98

Sara Bennett
'94-'96

Alexander Bilsky
'92-'94

Stacia Friedman-Hill
'89-92

Marni Stewart
'88-'91

Sue Franzel
'86-'88

 
 


Former Visiting, Undergraduate, and High School Students 
Leila Heidari
CELEST '12

Raymond Farmer
Project Success '11-'12

Diego Reyes
Project Success '12

Wajdy Awad
RSI '12

Amanda Choo
RSI '12

Kimberly Lamare
Project Success '10

Ronny DeLeon
Project Success '10

Aina Martinez Zurita
RSI '10

Tommy Liu
RSI '10

Sheena-Gail Powell
Project Success '09

Ayman Jabarin 
RSI '09

Ian Cinnamon
RSI'09

Mahilet Oluma
Project Success '08

Christina Chang
RSI'08

Julianna Pillemer
Summer undergrad '07

Max Uhlenhuth
RSI '07

Nicole Nova
RSI '07

Randall Carter
Project Success '06, '07

Erick Desingco
Project Sucess '06

Genevieve Williams
RSI '06

Sophie Cai
RSI '06

Juliana Rotter
UROP '06

Julia Fong
UROP '06

Clare Dean
UROP '06

Jessenia Urrea
Project Sucess '05

Ansam Sinjab
RSI '03

Matthew Tsg
RSI '03

Linda Tran
Project Success '03

Kevin Yang
Project Success '03

Carol Lee
Summer '03, RSI '00

Hermie Mendoza
RSI '02

Dan Seltzer
Summer '02

Nina Vasan
RSI '01

Liz Shulman
Summer '97, '98

Adriana Elmes
Visiting '92

Felicity Lanier
Summer '92

Albert Lew
UROP '91

Erica Song
UROP '90, '91

Alice Yee
UROP '88-'90

Tracy Kincaid
UROP '89, '90

Lisa Gische
UROP '89, '90

John Martello
UROP '89, '90

Maya Bose
UROP '89, '90

Stephanie Jackson
Summer '89

Charlie Pokorny
UROP '89

Karen Yu
UROP '87-'89

Arthur Figel
UROP '86-'88

Felicita Treue
Visiting '88

Bob Sugiura
UROP '88

Marc Light
Summer '85, '86